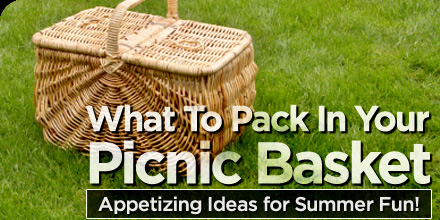 Super Picnic Picks! RECIPES
It's Picnic Time! Time to breakout the baskets, coolers, portable table tops or blankets and serving dishes. What can you serve this year that is different? What are some sure-fire favorite picnic picks? Our guest, Amy Roskelly, founder of Super Healthy Kids, is teeming with ideas for you. Whether you are going to the beach, the mountains, the woods, a lake, park or staying in your own back yard, Amy will give you her best of the best to choose from for your picnic. From traditional recipe makeovers to innovative ones, Amy is going to refresh your picnics this year! Co-Host Carolina Jantac, MD, RDN, LD (Kid Kritics Approved) and I will be taking notes. We recommend you do as well so we all can look forward to simply delicious, super healthy picnics.
Come into our Family Food Experts Kitchen to join Amy, Carolina to me as we   prep you for a summer of picnic fun! Sunday, 1pm ET, onW4WN.com.
… for the health of your family,
ellen

www.FamilyFoodExperts.com
www.KidKritics.com
www.FuelYourDreams.net