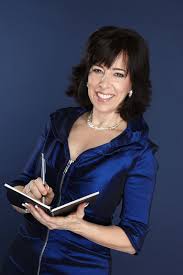 She loves pink and motorcycles. She's a businesswoman and she's a force to be reckoned with. Eldonna Lewis-Fernandez is a retired Master Sargeant from the Air Force and she specializes in negotiation. She holds a Top Secret security clearance and  has been a trusted agent of the U.S. Government for 30 years and she's my guest this week on The Cindy Laverty Show.
Trained to survey every room she enters and keep her back to the wall, she reveals the impact of stress and trauma in combating faulty decision-making as she trains women how to re-think and re-direct their energies for higher performance and better bottom-line professional and personal decisions. With her tagline, Take Control of the Handlebars of Life through the Power of PINK, her PINK signature acronym is
I had the privilege of hearing Eldonna speak at a recent event and I was bowled over by her dynamic presentation and couldn't wait to have her on the show. We're going to move quickly because we have a lot to cover, but some of the topics we're going to focus on are how to turn negative self-talk into positive self-talk; how to release resentment and why that matters; and how to take positive action towards your goals and dreams.
Eldonna is the CEO of Dynamic Vision International Inc. and she has a new book Think Like a Negotiator, is coming out soon. No matter where you are in your life, you won't want to miss this interview. Life is a negotiation and this Wednesday, June 26 at 10am Pacific Time, 1pm Eastern Time, you have the opportunity to learn from the best. You can learn more about Eldonna Lewis-Fernandez here. She has another site that you might want to check out also by going here.
This is going to be a dynamic interview with a powerhouse! Tune in at 10am Pacific Time, 1pm Eastern Time for The Cindy Laverty Show.