I'm an adventure traveler. But sometimes the adventure comes with a detour I didn't plan: getting sick.  I've traveled the world and collected some amazing memories and photos for my scrapbooks. But sometimes I picked up a bit more than I wanted. I've had a few unplanned trips to doctors' offices and pharmacies in various locations for an assortment of travel related conditions from food poisoning and many gastro-intestinal ailments to allergies, hives, rashes, nasty bug bites and even (ugh!) worms and scabies. I know! – Too much information!
But, you can never have too much information on how to stay healthy on the road. I've invited Dr. Carol Sullivan, DNP, MS, ANP, a travel medical specialist and adult nurse practitioner at New York City's Columbia University School of Nursing to join me Monday, May 25, 9pm ET, to discuss smart health precautions everyone should take when planning a trip.
Summer is prime traveling season for you and your family. The last place you want to visit is the hospital, especially on a vacation. Dr. Sullivan will cover a range of important topics to consider from vaccinations to food safety to what to pack in your first aid kit. We'll also discuss what you should do if you become sick away from home.  Tune in live to Fearless Fabulous You! 9pm ET on www.W4WN.com before you take off this Summer.
This show will be available online anytime on demand at iHeart.com and the iHeart App under Shows & Personalities: Fearless Fabulous You!- Episodes: Dr. Caroline Sullivan
Here are my own Fearless Fabulous Health Tips When I Plan a Trip:
If you are traveling overseas check to see if you need vaccinations or if there are any health alerts you need to know.
Drink bottled water. I even brush my teeth with bottled water. If you are hiking or camping and need to drink water from a creek purchase water purification tablets to use before you leave.
Altitude sickness is tough when you are up in the mountains. In Peru I chewed coca leaves like the locals. But I always pack prescription medicine to counter altitude sickness and I hydrate more than ever with bottled or purified water.
 I wear Sea-Bands for road trips and boating excursions when motion sickness is an issue. You can find them at drugstores.
Do not- repeat- do not eat a heavy meal before you take off in small plane or boat. Your meal may arrive before you. Eat lightly and drink plenty of bottled water.
The dehydrating effects of alcohol are enhanced by heat and dry air. This means be taking extra care on picnics, at the beach, in hot tubs and in airplanes. Do not drink alcohol on an empty stomach!
Going barefoot on the beach is fun but be careful where you walk and especially at public beaches where pets can run – and pee- freely. Just know: I have unpleasant first- hand experience with this matter- twice- with infections.
If you have an allergic reaction to food, bug bites or anything, go to a pharmacy or seek medical attention.
Bring your own disposable utensils and plenty of antibacterial hand wipes, especially if you are traveling in a country where the safety of the water (drinking or for washing dishes) is questionable.
Pack a list of all medications and prescriptions you take along with a checklist of allergies and your blood type. It's amazing how people remember to pack extra battery chargers and list of log-in passwords and neglect to pack a first aid kit and a list of medications they take.
If you have a medical condition consider purchasing a Medical Alert bracelet.
If you are visiting one or more foreign countries write down a list of all local translations for: Hospital, Doctor, Pharmacy, Bathroom, Feel Sick, Need Help, Stomach, Pain, Dizziness and Nausea. There are a few more but this is a starter list.
Helpful Info:
Centers for Disease Control and Prevention:  https://wwwnc.cdc.gov/travel
Columbia University Travel Medicine: https://health.columbia.edu/travel-medicine
Follow ColumbiaDoctors on Twitter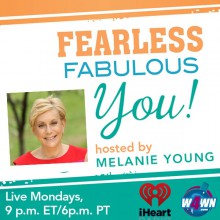 Tune in Mondays, LIVE 9pm ET on W4WN and anytime on iHeart.com and the iHeart App for Fearless Fabulous You! Host Melanie Young features inspiring women and experts on health, wellness and nutrition. Direct link: https://www.iheart.com/show/209-Fearless-Fabulous-You. Follow on Twitter and Facebook.