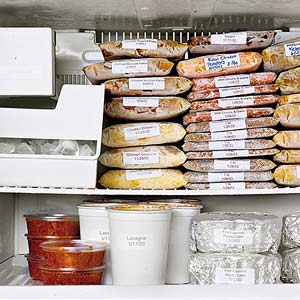 Make your freezer your best friend so it will save you food, time and money!  Oh, and it will produce super delicious meals. Okay, you have to prepare the meals but we have the perfect food experts to help you make this easy.  Neither of them have a lot of extra time and money, either.  This week, our Family Food Expert's co-host is Tracee, a Registered Dietitian, chef, founder of Real Food Moms and author of 3 books.  Our guest is her co-author for Great Expectations: Best food for your Baby & Toddler , and,  Simple Foods for Busy Families, Jeanette Bessinger, (Clean Food Coach) a board certified health coach, whole foods chef, and award-winning lifestyle and nutrition educator. Jeanette is the author and co-author of a total of seven books featuring healthy eating.
From rescuing produce that looks like it is ready to be thrown out, to turning your boring leftovers into new improved frozen meals as well as showing you how to freshly freeze your overflow meals, Tracee and Jeanette will help you make your freezer your best friend!    
Please, join us in our Family Food Experts Kitchen. Tune in, Wed. Jan. 16th, 6pm ET, www.W4WN.com. Listen in while you are busy preparing or already enjoying your dinner. See you then!
… for the health of your family,
ellen (host)
KidKritics.com