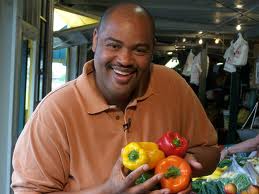 How Fresh are you?  How fresh is the food in your kitchen this month? Do you feel like your fresh fruit and vegetable choices are limited at this time of year?  Thanks to imports, you can now find more in stores.  Question is, should you buy avocadoes from Mexico or grapes from Chili? Do you go down the frozen isle to buy corn and strawberries instead? What is the best way, the most cost-efficient way to save money, to eat delicious ripe anti-oxidant filled mangoes, spinach and all those other power-packed fresh fruits and vegetables in the dark of winter? And, how do pick them out at the store and serve them to your family so they will gobble them up, keeping in mind you have no time to spare?
This week, co-host Stacey Antine, RD (HealthBarn USA), author of Appetite for Life and I are so eager to introduce you to one amazing Celebrity Chef, Curtis Aikens, published author (Guide to the Harvest), Chef, Food Network TV Program Host and so much more. Vegetables and fruit are his passion. Come get fresh with us!
Come into our Family Food Experts Kitchen. Tune in, Wed. Feb. 6th, 6pm ET, www.W4WN.com. Listen in while you are busy preparing or already enjoying your dinner. See you then!
… for the health of your family,
ellen (host)
KidKritics.com
FamilyFoodExperts.com
P.S. If you miss us live, listen on Thursday, 1pm ET, on www.W4WN.com or www.W4CY.com.