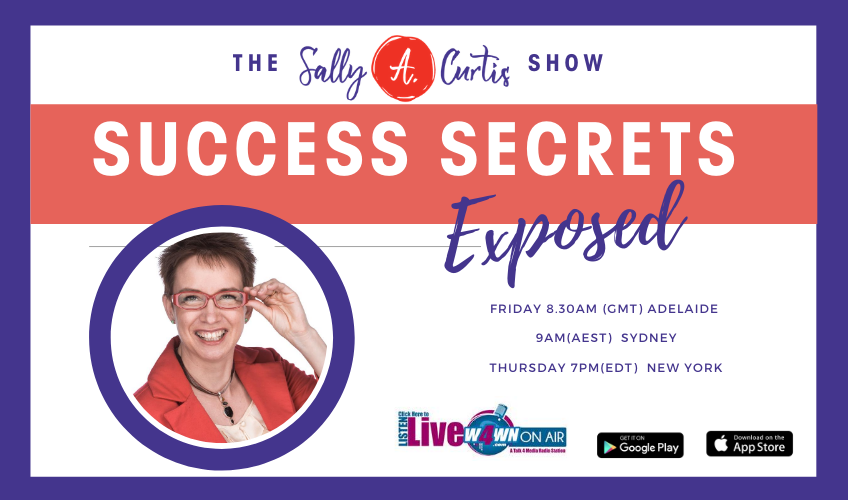 WEEKLY Live Radio Show with Sally A Curtis – "The Success Secrets Exposed" Radio Show & Podcast
Find us here: https://w4wn.com/shows/success-secrets-exposed/
Friday 14th August 8.30 am Adelaide, 9 am Sydney Time
& Thursday 13th at 7 pm New York Time
——–-Quick Overview——

Success Secrets Exposed is a fun, inspiring, and informative show on the secrets of success and the challenging stories behind them.
———Our Guests are Gary Edwards & Jessica Giles————
Our first guest Gary Edwards will talk about "The Six Essential Elements of Influence".
To give you a background, Gary is an Influence Expert who specializes in helping people get better results in the important conversations they have everyday: meetings, sales, calls, presentations, negotiations and pitches.
Drawing on his unique background as a lawyer, professional magician and hostage negotiation researcher, Gary has developed the 6 Essential Skills of Influence and will share that with us this August 14.
Our second guest for the show is Jessica Giles who will share "How to crisis proof your money mindset and grow wealth at any time."
Here is a little insight into her story…..
As a qualified accountant Jess very quickly identified that money management and lodging tax returns was only one very small piece of the puzzle!
For women in particular financial empowerment and confidence is something that is widely lacking and this is where Jess's unique skill set and genius zone come into powerful play!
As a certified Money Mastery Coach, Jess powerfully supports her clients across all areas of money including money mindset, manifestation, law of attraction, money management and wealth creation.
All areas addressed and nurtured together create an unstoppable financial uprising for women, with significant shifts including ever growing bank accounts but also including enhanced self love and strengthen personal relationships. This is what Jess lives for!
I am sure that we can get a lot of insights and tips from Jessica.
You can join the conversation at Sallys Radio Show Community on Facebook
https://www.facebook.com/groups/sallyacurtisradio
As promised our guest want you to have forward movement just like Sally so they have given you some valuable and FREE resources to help you grow!