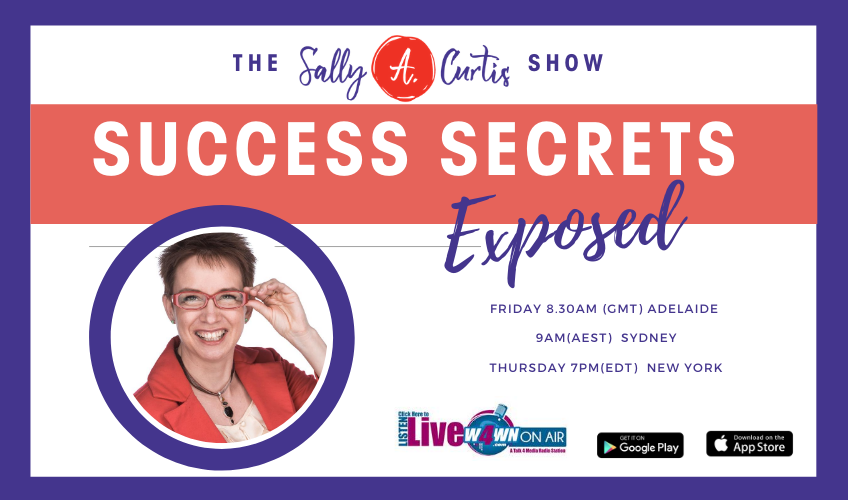 WEEKLY Live Radio Show with Sally A Curtis – "The Success Secrets Exposed" Radio Show & Podcast
Find us here: https://w4wn.com/shows/success-secrets-exposed/
Friday 7th August 8.30 am Adelaide, 9 am Sydney Time
& Thursday 30th at 7 pm New York time
——–Quick Overview——
Success Secrets Exposed is a fun, inspiring, and informative show on the secrets of success and the challenging stories behind them.
———Our Guests are Judith Bowtell & Peter Nicholls————
Our first guest Judith will share her "New Beginnings" story titled:
"Self-Compassion & why it's a Hard Sell"
Here is a little insight into her story…..
Judith Bowtell is a career and leadership coach who specialises in supporting people in unconventional careers and non-traditional work environments.
She has been coaching executives and emerging leaders to develop their self-awareness, confidence and strategic skills since 2012, through her coaching practice Albany Lane Consulting Pty Ltd – www.albanylane.com.au.
Judith has had 25 years' experience in arts strategy and policy, in funding and cultural agencies, and leading arts companies as CEO, chair and board member.
Our second guest Peter will share his "New Beginnings" story titled:
"Enjoy Being You"
Here is a little insight into his story…..
Peter is very different. He re-invented himself as a Life Mentor after more than 30 years in the leisure and recreation development field. His work has until Covid-19 focused on helping senior executives start a new life adventure after they leave work.
Now Peter's first book "Enjoy Being You" (2001) has come back into vogue as people of all ages wonder who they are, and what to do in this dramatically changing world. Peter brings wisdom and a new perspective to the role of the enjoyment factor in our continuing personal development
Peter has a Graduate Diploma in Recreation Planning and a Bachelor of Arts. He is a Life Member and Past National President of Parks and Leisure Australia (sister body to the US National Recreation and Parks Association).
You can join the conversation at Sallys Radio Show Community on Facebook
https://www.facebook.com/groups/sallyacurtisradio
As promised our guest want you to have forward movement just like Sally so they have given you some valuable and FREE resources to help you grow!
Guest's FREE downloads.  Get them now!
Judith Bowell
Create Your Ideal Working Life
gettalk.at/ep3-judith
Peter Nicholls
Why It's Time to Enjoy Being Your True Self
https://gettalk.at/ep4-peter
Looking forward to see you all!