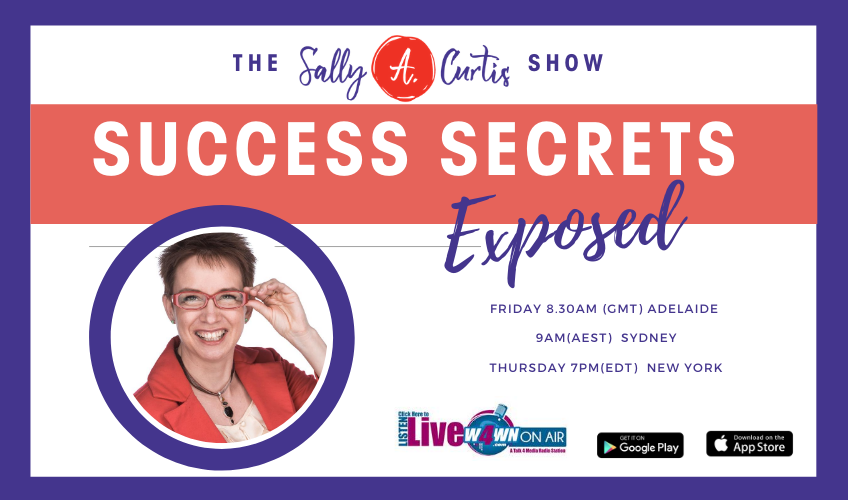 WEEKLY Live Radio Show with Sally A Curtis – "The Success Secrets Exposed" Radio Show & Podcast
Find us here: https://w4wn.com/shows/success-secrets-exposed/
Friday 21st Aug 8.30 am Adelaide, 9 am Sydney Time
& Thursday 30th at 7 pm New York time
———————————Quick Overview————————————-

Success Secrets Exposed is a fun, inspiring, and informative show on the secrets of success and the challenging stories behind them.
————Our Guests are Lauren Kress and Keith Lightfoot—————
Our first guest Lauren, along with Sally, will share our "New Beginnings" story titled:
"The Courage to be Vulnerable"
Here is a little insight into Lauren…..
Lauren Kress is a content creator, interview host and thought leadership coach helping clever people bring their personal brand to life with compelling audiovisual stories.
As per Lauren, When it comes to creating compelling content that resonates with our ideal clients, many entrepreneurs, coaches and consultants are under the impression that they must share their greatest successes and present a perfect image to their market.
In order to truly connect with our clients and build our profile as a thought leader we must be prepared to share our failures, our struggles and have the courage to be vulnerable with our audience.
Our second guest Keith will share his "New Beginnings" story titled:
"Dont Die with your Dreams Inside"
Here is a little insight into his story…..
Keith is a speaker, author, songwriter, and teacher.
Keith says "Unlike many speakers, I am not enabling people to build wealth, I am enabling people to feel worthy and capable".
"Equally with my teaching, I am not delivering new information, I am focused on 'unlocking the learning' already present in the student, to enable the learner to feel worthy and capable.
You can join the conversation at Sally's Radio Show Community on Facebook – https://www.facebook.com/groups/sallyacurtisradio
As promised our guest want you to have forward movement just like Sally so they have given you some valuable and FREE resources to help you grow!
Guest's FREE downloads.  Get them now!
Keith Lightfoot
Thank God It's Friday
gettalk.at/ep7-keith
Looking forward to see you all!