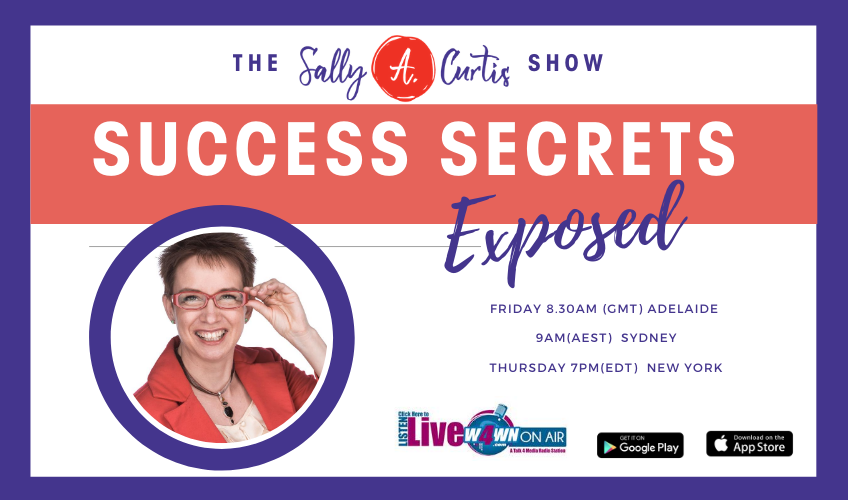 WEEKLY Live Radio Show with Sally A Curtis – "The Success Secrets Exposed" Radio Show & Podcast
Find us here: https://w4wn.com/shows/success-secrets-exposed/
4th September 8.30 am Adelaide, 9 am Sydney Time
& Thursday 3rd September at 7 pm New York time
———————————Quick Overview————————————-

Success Secrets Exposed is a fun, inspiring, and informative show on the secrets of success and the challenging stories behind them.
———Our Guests are Kate Burr & Joe Frankie III————
Our first guest, Kate Burr, will share her "Success Rituals" story titled:
"Comedy got me into this! It better get me out!"
Kate Burr is a Humour Coach and Award Winning Comedian who helps people to be funny on purpose and develop their Comic Intelligence. Kate makes sure humour is used to support your key messages, brand and personality. In business, the primary reason for humour isn't laughter; it's engagement – as better engaged prospects, clients, teams and audiences leads to better business relationships, performance and results.
With over 15 years of experience as a Stand Up Comedian, Event MC & Speaker, Kate brings her extensive knowledge and skills to teach Leaders, Business Owners, Coaches and Speakers how to use humour effectively to communicate their message.
Rather than just telling a joke to make people laugh, Kate focuses on using humour with the purpose to engage and influence your audience. Creator of the FUNNY ON PURPOSE FORMULA, Kate has "left-brained" comedy by adding her own templates, checklists, laugh data and reference maps methodology which she uses to help teach humour and engagement to others.
Kate teaches you to use humour in a way that helps you be confident, funny and engaging while creating a fantastic experience for your market!
Our second guest, Joe Frankie III, will share his "Success Rituals" story titled :
" The 5 min Drill, Executive Networking Success"
Joe Frankie III is a West Point graduate who had a full career in the U.S. Army as a warfighter and logistician for 30+ years. He commanded at all levels from platoon thru installation. Post military, he used his logistics skills to work on infrastructure projects in the US and internationally.
Currently, as an award-winning author, coach, and search consultant he advises executives and transitioning military leaders. Most often, he helps them better merchandise themselves by helping them build a LinkedIn bridge from where they are now to where they want to go. He claims over 40 years of leading multifunctional teams worldwide in engineering, logistics, life sciences, technology, aviation and environmental services from startups to Fortune 500 companies in both private and public sectors.
Joe lives near Houston, Texas with his wife, Karen and a "wannabe" Schnauzer rescue dog, Ollie.
You can join the conversation at Sally's Radio Show Community on Facebook – https://www.facebook.com/groups/sallyacurtisradio
As promised we would want you to have forward movement so we have given you some valuable and FREE resources to help you grow!
FREE downloads.  Get them now!
Joe Frankie
The 5 min Drill, Executive Networking Success
 gettalk.at/ep9-joe
Join us this Friday and Listen to meaningful insights that will be imparted by our guests.