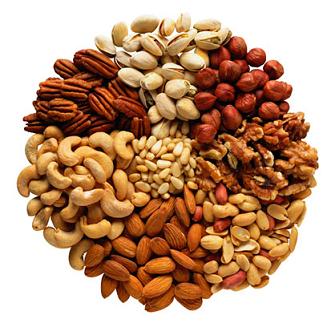 I go nuts every time I hear, "No Nuts!"  No nuts because they are fattening.  No nuts because of peanut allergies.  These are just a couple of misnomers about this rich source of protein, good fats and fiber. It's time to clear up the confusion about nuts. There are nut allergies that are real and need to be respected.  However, not all nuts are the same.  Thus, an allergy to one may not exclude one from eating others. Two of the best people to help you sort out the facts are joining us in our Family Food Experts Kitchen.  One is our guest, Amie Valpone, Culinary Nutritionist, Personal Chef, Media Personality, Editor-in-Chief for The Healthy Apple., and spokesperson for the California Almond Board.  She knows whole lot about nuts.  This week's Family Food Experts co-host, Dr. Heather Manley, Naturopathic Physician and author of the Human Body Detectives educational books for children, knows the nutritional benefits of nuts, and how to pay attention to nut allergies.  Together, they will clear the air on this subject.
And, you can expect to hear some great recipe ideas your family will love including easy ones you can fix in a jiff, plus ones you can eat on the run!
Come into our Family Food Experts Kitchen on Wed. April 24th, 6pm ET, www.W4WN.com. Listen in while you are busy preparing or already enjoying your dinner. See you then!
… for the health of your family,
ellen (host)
www.KidKritics.com
www.Family Food Experts.com
P.S. If you miss us live, listen on Thursday, 1pm ET, on www.W4WN.com or www.W4CY.com.