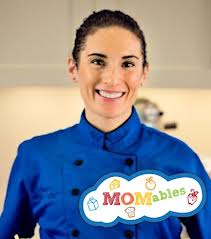 From concept to thriving business, Laura Fuentes, Founder and CEO of MOMables™, has created a business that helps Moms help their children every day.
Laura is the mother of three young school-aged children. Her oldest children, two ultra-picky eaters, posed a daily challenge to feed nutritious food.  She simply grew tired of having her kids ask  for processed packaged items claiming to be nutritious,. Thus began her quest  to make food that looked like what their friends were eating, but was made fresh in her kitchen — all without the preservatives and processing – typical of children's store-bought lunches.
Laura loves of healthy food came from being raised on homemade food from her grandmother's kitchen. Her grandmother's passion for fresh ingredients built the foundation and appreciation for wholesome, delicious foods. Laura was born in Spain and traveled there extensively. During that time, she developed a love for Tapas or "small plates". For the last several years, Laura was busily creating and compiling healthy recipes, and decided it was time to share them with other moms and dads – thus, MOMables™was born. You can learn more about MOMables here.
Laura is not a trained chef, but rather, a busy parent who wanted to simplify the school lunch process and show others how to make fresh, fast and kid-friendly food!
Tune in Wednesday, May 15 at 10am Pacific Time, 1pm Eastern Time for The Cindy Laverty Show. Care is everywhere and this week, it's about caring for your business by igniting your passion.