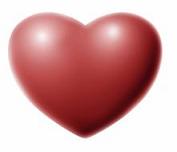 Heart attacks are the number one killer of women.  Moms, even if you are in your thirties, you are at risk. Don't become a heart disease statistic. Instead, "Go Red!"  Start by learning the symptoms.  Then know what foods are your heart's best friends, and those which are its enemy. Lauren Harris-Pincus, RD, (Nutrition Babes) and our guest, Registered Dietitian Sharon Palmer have a passion for spreading the word about healthy delicious eating. Together they will give you an "Eat This, not That" food list with recipes so you can eat your way to good heart health.  They'll probably throw in a few stress reductions tips as well!     
Come into our Heart Healthy Family Food Experts Kitchen, Wed. Feb. 13th, 6pm ET, W4WN. Listen in while you are busy preparing or already enjoying your dinner. See you then!
… for the health of your family,
ellen (host)
KidKritics.com
FamilyFoodExperts.com

P.S. If you miss us live, listen on Thursday, 1pm ET, on W4WN or W4CY.