Summer is a sun lover's dream. I grew up in the South with a beautiful blonde mother who turned dark golden brown. Unfortunately, I inherited my father's pale skin which burned and freckled (and later speckled).  Skin cancer is on all sides of my family, and I am vigilant about skincare and sun protection.
When I was a teenager no one discussed skin cancer. In high school we gals competed to see who could have the deepest tan. I slathered on the baby oil and my mom's Bain de Soleil Orange Gelée (I will never forget the scent!). This was a competition I would never win and may regret some day.
I stopped sunbathing when I hit age 30 but the damage from years of tanning had already set in. I have spent thousands of dollars trying to minimize the damage through peels, treatments and topicals- and that's just for the discoloration, spots and other skin damage. For skin cancer, I can only monitor, hope and pray that my genes will not betray me.
Thankfully for everyone skin cancer awareness and prevention is front and center, especially at the start of summer.
Dr. Lindsey Bordone, a board certified dermatologist at New York City's Columbia University Medical Center (CUMC), joins me Monday, May 25, 9:28pm ET to discuss smart summer skin care and skin cancer risk reduction. We will discuss proactive prevention, different types of skin cancer and new developments that may fight skin cancer.
Proactive health is the best practice for staying well this summer. As I like to say today: Get your sunny glow from daily exercise, a healthy diet and a good night's sleep and not from tanning. Enjoy the sun but stay smart!
Read more on how to protect your skin and monitor for signs of skin cancer here at The Skin Cancer Foundation.  Here are more tips from Columbia University Department of Dermatology.  Follow Columbia Doctors on Twitter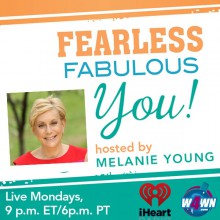 Fearless Fabulous You! airs live Monday's 9pm ET on W4WN- the Women 4 Women network and can be heard anytime on iHeart Radio under www.iHeart.com and the iHeart App under Shows & Personalities. Visit  https://www.iheart.com/show/209-Fearless-Fabulous-You
Follow Melanie on Twitter and connect on Facebook.
Pay me a visit: www.melanieyoung.com. I love hearing from you!
Want more Fabulous? Please join my mailing list, for tips and more to live a healthier, happier life.